Portales, NM – The Roosevelt County Board of Commissioners and officials from the Food Bank of Eastern New Mexico hosted a ceremonial ground breaking Thursday, March 16 for the new Roosevelt County Food Pantry with more than 25 people attending. This partnership is focused on reducing the food insecurity Roosevelt County residents face as one in every four children and one in every seven adults identified as food insecure persons.
"It is a great day to break ground and more formally announce we are going to have a food pantry in our community," said Commissioner Dennis Lopez. "I am so thankful for the grant appropriations that will benefit all Roosevelt County residents. It's a need often overlooked by some but a much needed resource for so many! Thank you to all that expended so much energy to have this initiative come to fruition."
In May 2022, officials from the Food Bank of ENM asked the Commission to consider serving as a fiscal agent for a food security grant. The Commission unanimously agreed with their request. This followed the County's effort in 2020 to relocate the food distribution program to the Roosevelt County Health Clinic in collaboration with the La Casa Family Healthcare team for a temporary solution.
"The Food Bank of Eastern New Mexico is so thankful to have the support of Roosevelt County and the State of New Mexico and for their investment in this community. This space will give us the capacity to continue to expand on our efforts to combat food insecurity in eastern New Mexico," stated Executive Director Dianna Sprague.
Sprague was successful in securing a grant award for this Roosevelt County location. Nixon Enterprises was awarded the bid for $190,000 to construct an 800 square foot commercial metal building, with a drive-thru food distribution covered awning, and curbside pick-up and parking area at 1111 West Fir St in Portales to house this client-choice food pantry. The build is scheduled for completion by June 2023. The Food Bank of Eastern New Mexico is currently raising funds to equip the pantry with shelving, refrigerated and freezer cabinets and other necessary equipment.
Funding awards for 40 food security projects throughout the state were announced in Fall 2022. Click here to review the press release from the Governor's Office.
For more information on this building project, please contact the County's Administrative Offices at 575.356.5307. For more information regarding the Food Bank of ENM or their fundraising campaign, please contact Executive Director Dianna Sprague at 575.763.6130.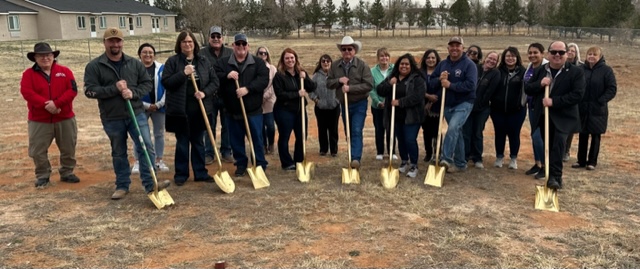 Photo: Commissioner Dennis Lopez shared his vision with those in attendance.